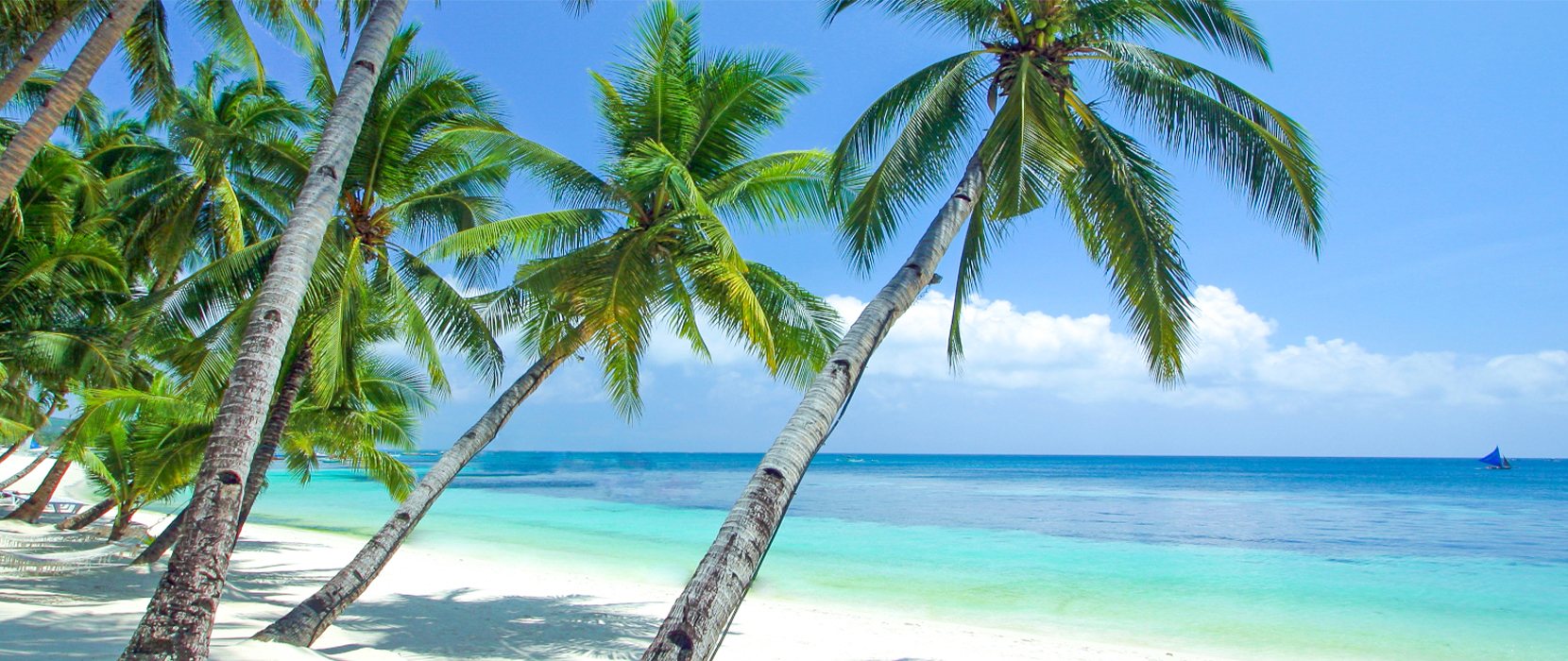 COVID-19
EINREISE AUF DIE PHILIPPINEN
Seit dem 1. April 2022 können vollständig geimpfte Touristen aus allen Ländern, entweder mit einem maximal 48 Stunden alten, negativen PCR-Test oder einem maximal 24 Stunden alten Antigen Test einreisen. Die bisher vorgeschriebene siebentägige Quarantäne ist nicht mehr notwendig.
Eine vollständige Liste der Voraussetzungen sowie die benötigte Versicherung sind hier nachzulesen. Einreisebedingungen für nicht oder nicht vollständige geimpfte Reisende finden Sie hier. Bitte beachten Sie, dass Sie sich 3 Tage vor der Einreise über diese Seite registrieren müssen. Nähere Informationen über die Einreise in bestimmte Regionen finden Sie hier. Ebenfalls können Sie sich an Ihre lokalen Reisebüros wenden.
ÖFFENTLICHE BEKANNTGABE ZUR SICHERHEIT
Das philippinische Tourismusministerium (DOT) stellt sicher, dass alle Interessenvertreter des Tourismus die Sicherheitsprotokolle und -Maßnahmen der Weltgesundheitsorganisation (WHO) und des Gesundheitsministeriums (DOH) erfüllen. Es forciert die Umsetzung dieser Maßnahmen auch in der Öffentlichkeit, um die Ausbreitung des Covid-19 einzudämmen.
Derzeit gibt Reiseprotokolle, Verhaltensvorschriften und andere Gesundheitsmaßnahmen in Ballungsgebieten und touristischer Schwerpunkte, um das Risiko importierter Fälle und der Übertragung in und durch die Öffentlichkeit zu verringern
MAßNAHMEN DER PHILIPPINISCHEN
TOURISMUSINDUSTRIE
Die philippinische Regierung arbeitet eng mit ihren Interessenvertretern der gesamten Tourismusbranche – einschließlich Fluggesellschaften, Hotels und Resorts und Reiseveranstaltern – zusammen, um ineinandergreifende Richtlinien festzulegen, um sicherzustellen, dass alle Vorsichtsmaßnahmen ergriffen werden ,die Ausbreitung des Virus im Land einzudämmen
Airport Protocol
AIRCRAFT DISINFECTION PROTOCOL
ACCREDITED HOTELS AND RESORTS PROTOCOL
The Philippine Department of Tourism (DOT) recommends that all tourists stay in DOT-accredited establishments for the duration of their trip to ensure that the proper safety protocols are in place.
Guidelines for Accommodation Establishments Under the New Normal
To secure hotel guests' health and safety in areas where Community Quarantine is no longer in place, please see and follow the mandatories listed below.
Guest Handling Policy
Online payment is highly encouraged upon booking.
Guests must complete a Health Declaration Form upon check-in.
Body temperature checking using a thermal scanner at the hotel entrances shall be undertaken for all guests by qualified health staff or trained hotel personnel. Only guests cleared during screening shall be allowed to enter the hotel perimeter to check-in.
Physical distancing, wearing of face mask, proper handwashing / hand sanitizing practice must be emphasized.
Guests must be provided with reminder cards which may include the following:

No sharing of food or any personal or non-personal belongings
Proper disposal of used PPE must be followed
Mingling with occupants of other rooms is discouraged
Practice of proper handwashing etiquette/hand hygiene, respiratory etiquette, and proper use of face mask must be observed
Strict observance of physical distancing
Reception and Concierge
Contactless payment is highly encouraged.
Acrylic glass barrier may be set up at the front desk for additional protection.
Other PPE that may be considered in the reception counter for emergency purposes are as follows:

Disposable protective apron
Disposable protective shoe covers
Full-length long-sleeved gown/protective clothing/coveralls

Official up-to-date information must be available at the reception desk about traveling to and from countries and/or other areas, including local destinations, that are identified by the Department of Health (DOH) as high-risk in spreading the virus or disease.
Emergency contact numbers of public health authorities, nearest hospital or medical center, and the DOH Assistance Center must be readily available in the reception desk.
A floor marker that allows one (1) meter distance between guests on queuing must be in place to ensure physical distancing.
Reception or Front Desk Officer
Contactless process at the front desk is highly encouraged.
Handshaking is not advised. The practice of Filipino Brand of Service (FBS) or the "Mabuhay Gesture" in greeting and receiving guests, as well as other forms of contactless greeting, is highly encouraged.
Front desk personnel attending to guests must wear face masks. Disposable gloves must be worn when handling cash or documents, and/or materials that are passed from person to person.
All staff extending guest assistance that requires physical contact (e.g. wheelchair, bell service) must wear proper PPE, such as face mask and gloves, whenever necessary.
Rooms and Housekeeping
Only single up to double room occupancy is allowed. Couples or family members who share the same household may be allowed in double or twin occupancy rooms.
Sanitation kit shall be provided for each guest which may include the following:

70% solution alcohol or alcohol-based sanitizers
Disinfectant sprays
Face masks
Disposable gloves
Rags

A distance of 1 to 2 meters between beds is highly encouraged
Housekeeping Staff
Housekeeping staff must use PPE such as disposable gloves, eye protection gear (goggles), and face masks when cleaning guest rooms and other common areas.
If doing cleaning that generates splashes while washing surfaces, cleaning staff must use facial protection or face shield and waterproof aprons.
Room Decontamination
The establishment must ensure prompt action to clean rooms after each use of guest/s. It must be a standard procedure to sanitize rooms right after check-out.
Disinfection of rooms and surfaces must be conducted every after guests check out. This includes disinfection of furniture, appliances, flooring, and panes using bleach solution or any approved disinfecting agent.
Thorough disinfection of rooms and common areas using enhanced technologies, such as electrostatic sprayers with hospital-grade disinfectants, high efficiency particulate air (HEPA) filter, or germicidal ultra-violet (UV) lighting system, at least once every two (2) weeks is highly encouraged.
Food and Beverage (F&B) Service
Guests must be reminded to disinfect their hands with alcohol-based hand sanitizer, or 70% solution alcohol located at the reception counter upon entering and leaving the vicinity.
All food and beverages must be served by restaurant crew or personnel.
Banquet tables that can accommodate ten (10) guests must accommodate only five (5) guests. Tables shall be arranged such that the distance from the back of one chair to the back of another chair is more than one (1) meter apart and the guests face each other from a distance of at least one (1) meter.
Serving of individually packed meals using biodegradable packaging is encouraged.
The following services and set-ups are highly discouraged:

Self-service station at the dining area
Buffet service
Room service
Public and Common Areas
Sanitizing mats must be available at all entry points.
Physical distancing must be strictly observed when using elevators. Only 50% of the maximum capacity is recommended to avoid physical contact. Placing of floor markers to delineate physical distancing is likewise encouraged.
Information, Education, and Communication (IEC) materials on proper handwashing, respiratory etiquette, and proper use of face mask must be posted in conspicuous areas, particularly at the restrooms and other wash areas.
Placement of signs reminding guests and general public to minimize touching of surfaces in public areas is highly recommended.
NEW NORMAL PROTOCOLS FOR
DOT-ACCREDITED RESTAURANTS
The following guidelines must be strictly implemented and observed by all establishments, including its staff and guests, to ensure everyone's safety.
Disinfection And Sanitation Protocols
These safety measures are required to keep establishments safe and clean.
Configuration Protocols For Restaurants
All establishments are required to strictly follow these set-up protocols:
Guidelines For Customers
Make the safety of customers a priority and follow these measures:
Guidelines For Employees
All staff are required to follow the protocols below to ensure safe food service.
Guidelines On Delivery Services
Personnel can ensure safe food handling and delivery by following these:
Guidelines On Restaurant Management
Management must follow these health and safety protocols strictly.
LAND TOURIST TRANSPORTATION PROTOCOLS UNDER THE NEW NORMAL
To ensure tourists' safety, all sets of guidelines below must be strictly implemented and followed by the operators, staff, and travelers.
What Transport Operators Should Do
These safety measures are mandatory in operating tourist transport services
Must-Have Items For Drivers
Transport operators are required to provide all drivers with the following items:
What Drivers Should Do
Maintain cleanliness and secure the tourists' safety by doing the following:
Securing Transport Vehicles
All transport services must be kept sanitized at all times by following the mandatories below.
Conduct deep cleaning and proper disinfection after every use.
Keep vehicle well-ventilated, with air-conditioning on non-recirculated mode.
Keep wastes on board in a hygienic condition.
Prepare a separate trash bag for sanitation disposables.
Immediately dispose used trash bags at the destination.
Mandatories for Transport Vehicles
All transport services should strictly have the listed items at all times.
Markings and barriers
Notices with appropriate info and enforced policies
Info materials on hand disinfecting and respiratory etiquette
Thermometer gun & first-aid kits
Sanitation kits for passengers:

70% solution alcohol/sanitizer
Tissue paper and/or disposable wet wipes

Emergency directory of the following hotlines:

Clinics and Hospitals located in the city/municipality within the route
Police and Fire stations located in the city/municipality within the route
Other emergency responders whether public or private located in the city/municipality within the route

Cashless services and other options that promote less physical contact
Passenger Protocols
Tourists are required to strictly follow the terms listed below.
Passengers without masks shall not be allowed to board the vehicle.
Passengers exhibiting flu-like symptoms shall be immediately transported to a healthcare facility or hospital.
Passenger information such as name, address, and contact details shall be collected for contact tracing.
Passengers Limit and Physical Distancing Measures
Vehicles must comply with Social Distancing and Passenger Limit Guidelines set by the Department of Transportation (DOTr) and Land Transportation Franchising and Regulatory Board (LTFRB).
Car/Sedan

A total of three (3) passengers, including the driver, are allowed.

No passenger should be seated beside the driver.
Max of two (2) passengers should be at the back row with one seat apart.

Vans

Only two (2) passengers per row are allowed.
Only one (1) passenger for the driver's row is allowed.
A waterproof transparent barrier between the driver and the passengers must be installed.

Buses/Coasters

Only 50% of the total capacity is allowed.
Passengers must be seated one (1) seat apart.
No standing passengers are allowed.
A waterproof transparent barrier between the driver and the passengers must be installed.